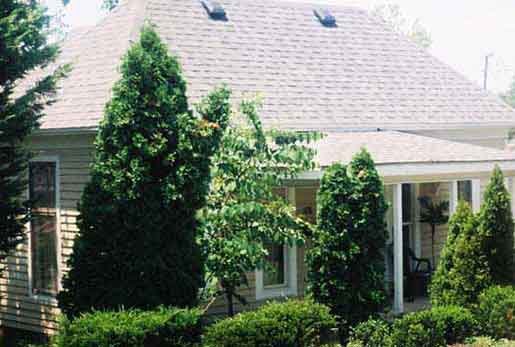 If you need longer-term accommodation than offered by a B&B or hotel, the cottage adjacent to The Train Inn is the perfect Carbondale vacation rental home, offering full-house use and spaciousness. Being next to the Train Inn, you can have the best of both worlds: self-contained privacy and nearby management in case you need anything. It is a perfect vacation house, executive rental, hotel alternative, weekend getaway, or home away from home when visiting Carbondale or SIU, in southern Illinois.
The house was built in 1905 and has a comfortable, rustic charm. It has been recently renovated and offers modern comfort, which makes it an ideal vacation house, executive rental, or hotel alternative. The rental cottage has three bedrooms, easily sleeping six guests. This vacation house comes fully furnished, with cable television and broadband internet connection. The kitchen is fully equipped, including dishes and cookware, microwave, and dishwasher. Also provided are towels, linens, washer and dryer, and central air. There is parking for up to four cars.
The vacation rental house is self-catering and does not offer breakfast service as it is a separate entity from the bed and breakfast.
As with the bed and breakfast, the cottage is conveniently located near SIU Campus and local amenities.
This Carbondale vacation rental home is available for any length of time needed as a vacation rental, executive rental, weekend getaway, and short-term rental cottage in Southern Illinois near SIU.
Southern Illinois Vacation Rental Home Features
Private use of full house
Three bedrooms
One bathroom
Fully furnished
Self-catering
Dishwasher
Microwave
Cooking utensils and linens
Washer and dryer
Central air conditioning
Parking for 4 cars
Cable television
Broadband internet connection
Rental Rates
We ask that you inquire regarding rates, given that they vary based on time of year and the duration of your stay.